Hot Tap Service
We offer complete shut-off / isolation procedure and make cost saving , safety , self-control procedure in order for a piping or vessel operating on high pressure environment without losing any performance efficiency - typical application include tie-in, add-on and by-pass .
Our service includes Hot Taps and Line Stops, Valve Stops, Tee Stops and Elbow Stops
Pipe Cutting & Repairing Services
Complete range of pipe cutting/bevelling machines performed by our skill-trained engineer with the state of art equipment for the pipe/tube from 50mm to 1000mm.
Machines include pneumatic operated for working in hazardous environment and hydraulic driven where need more heavy duty drive, we are able to perform compound and V-Joint bevelling etc for site job / on-site.
We have the special designed clamp and enclosure that is able to stop and seal all air, steam, gas, water or any piping leaks, including maintain straight line pipe, coupling , union, flange leak pressure of 1500psi and temperature of 425 degree F.
Hydraulic Cylinder Repair
We provide the following on-site hydraulic trouble shooting and carry out repairs trouble shoot;
Hydraulic Cylinders
Hydraulic Systems
Rental/Hiring Equipment
         - Cylinder
         - Torque Tool and Pumps
         - Tensioning Tools
         - Boring...etc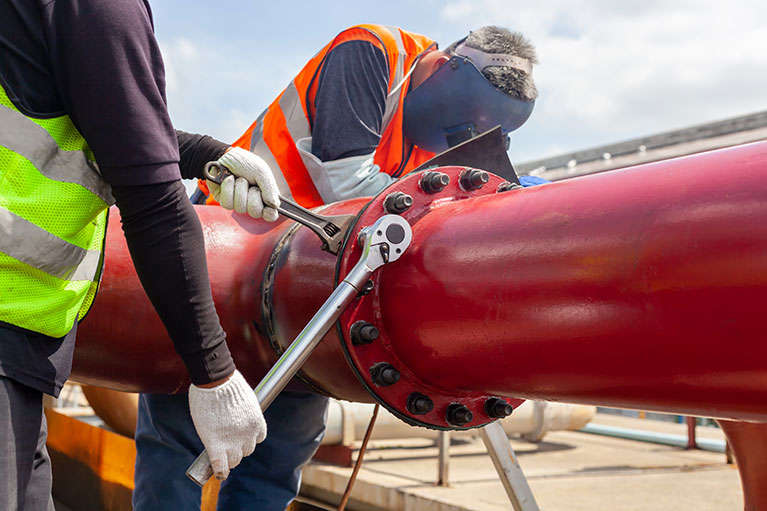 On-site Bolting/Cylinder
Torque Service
The hydraulic piston is connected to a ratchet via a reaction pawl assembly which allows it to engage the ratchet teeth in the advance mode to rotate the nut or bolt head, and subsequently release during piston retraction to re-engage in the next forward push position.
Our hydraulic torque wrenches operate at 700 Bar maximum hydraulic pressure, incorporate a double acting heavy duty hydraulic piston for fast and easy operation, and can be used for accurately tightening or loosening nuts/bolts. A choice of standard square drive tools, suitable for use with a variety of sizes of torque wrench sockets, or hexagon drive cassette head tools that locate directly on to the nut/bolt are available.

On-site Bolting/Cylinder
Bolt Tensioning
Hydraulic bolt tensioners provide accurate method of applying tension using a hydraulic load cell and threaded puller, the securing nut is rotated using a short tommy bar, whilst the thread is being stretched, until
it is firmly tightened against the joint face. Immediately after the hydraulic press ( load ) is released, the bolt tension is retained. Hydraulic bolt tension can be linked together in multiples to ensure an even " pull down ". or tension is applied to all bolts simultanseously.ensure an even "pull down" .
On-site Leak Detector
Our specialized skill with the tools, fixtures and compound enables us to conduct on-site leak sealing for air, steam, water and oil leak application.
We are able to perform on-stream repairing for all leaking components or process pipe lines, including Pipe Fittings, Joints, Union, Couplings ,Valves, Flanges, Heat Exchangers and Pressure Vessels on-site.
Leaks can be sealed even without shutdown of the plants and able to perform normal line pressure and temperature from 100m bar vacuum to 350 bar and from -32 degree C to 610 degree C.
Our services meet most of the Safety Certification requirements and our engineers do regularly attend upgrade programs in various fields.